&nbsp Hotrod Home
&nbsp Kelly Home
&nbsp Falcon
&nbsp Mustang
&nbsp Grandson's Ride
&nbsp Falcon History

&nbspModifications
&nbsp Falcon Drivetrain Specs
&nbsp Mustang 351C Specs
&nbsp New 351C motor build
&nbsp Disk brake swap
&nbsp 9" Rear Buildup

&nbspReference
&nbsp Ford Engine Data
&nbsp Ford Xmission Data
&nbsp HydroValve Adjustment
&nbsp Calculators
&nbsp Ford/Auto Links

&nbspFun Stuff
&nbsp Wrecking Yard finds
&nbsp Wreck of the ol' 351C

&nbspSend us a note!

&nbsp Good Information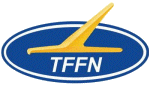 &nbsp&nbsp The Ford Falcon News
&nbsp

&nbsp&nbsp Classic Mustang mail list
&nbsp&nbsp&nbsp Join us online!
Here's some pictures of cool stuff (mostly Falcon related) that I found in our local recycling facility. It's a BIG yard, way out in the boonies (7 miles North of I-20 on FM600) and they save a lot of old cars. If you are interested in anything, contact them directly: FM600 Wrecking, 9402 West Lake Road, Abilene TX 79601 - (915)672-2597 (800)234-2319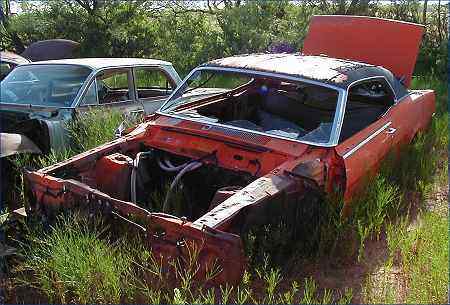 69 Mercury Cyclone - Here's a car I visit every time I come to FM600. It still looks fast, even laying there in the dirt. Don't get any hot ideas - the left rear quarter and floor are long gone. It still has a few parts, including the steering box. If I read the fender tag correctly, it was 302 equipped.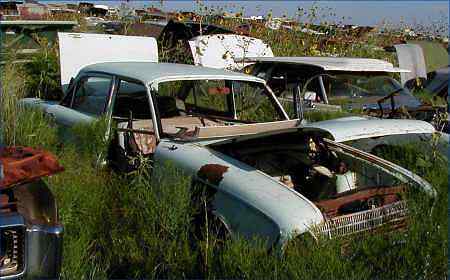 61 Falcon - very few pieces left on this one.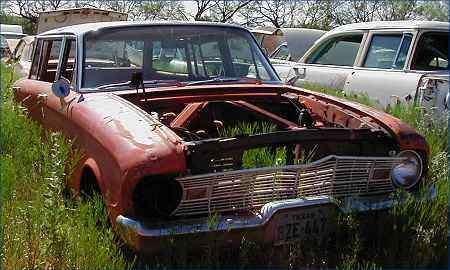 61 Falcon wagon - some trim here, but it's been dead quite a long while.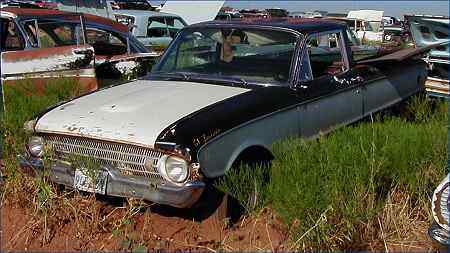 61 Ranchero - this one looks almost ready to drive out!